A Shaded View on Fashion Film (ASVOFF) is the only festival in the world that combines these 2 distinct disciplines and is celebrated in cities like Paris, New York, London, Milan, Tokyo, Cannes and Mexico City.
Barcelona hosts the firstever Spanish edition of (ASVOFF) A Shaded View on Fashion Film, created by visionary Diane Pernet.
A Shaded View on Fashion Film (ASVOFF) is an event that gathers together big personalities from fashion, art and cinema. During four days, ASVOFF Barcelona plays host to the best short films, in which the new creative tendencies in fashion will be core. In addition, the ASVOFF Barcelona 4 day program presents Carte Blanche; curated themed screenings, conferences and debates with industry professionals. For the last 4 years, the festival has been based at Centre Pompidiou in Paris, followed by satellite screenings in the cultural capitals of New York, Milan, Tokyo and now ASVOFF lands in Barcelona; a city host chosen from amongst a number of other candidates.
Photo: JUN ROPE TV Comercial featuring Anjelica Huston and directed by Richard Avedon
ASVOFF Barcelona is proud to launch 3 competitions of its own: OFFICIAL,STUDENTS and MOBILE FASHION FILM. The students competitions will run in conjunction with notable fashion design, film, and art schools throughout the world. Thanks to the collaboration of Barcelona's city council, the world's first mobile phone fashion film competition will be launched. ASVOFF will be held at CaixaForum Barcelona from 24th -27th, January, 2012. Submission forms and information about the 3 competitions can be found @ www.asvoff.es, competitions close 1st of January, 2012.
Traditionally, fashion has been associated with the static image of photography. The best photographers have participated in runways, promotional campaigns and adverts, however moving image in fashion, has had less importance in the cinematographic world, even though great campaigns have been created and the fact that it's a format that allows for diverse, leading-edge directions. With this objective in mind, Diane Pernet created A Shaded View on Fashion Film in 2008, a festival completely dedicated to film and fashion and inspired by her own blog A Shaded View on Fashion where this critic, photographer and fashion pioneer exposes today's cutting edge fashion and art and discovers new talent. The annual festival is held in Paris and cities linked to fashion and creative discovery, like New York, Tokyo, Mexico City, Moscow and London. These capital cities are now joined by Barcelona.
THE MUSE, THE INSPIRATION
The festival includes a "BEST OF" selection curated by Diane Pernet, presenting films from ASVOFF's previous 4 editions and a competition section with 3 categories: Official, Students and Mobile Phone.
The OFFICIAL& STUDENTS categories, judged by an esteemed international jury of film critics, actors, curators, creative directors, fashion designers, editors, journalists and photographers, will make up the ASVOFF BARCELONA JURY, with prizes for Best Film, Best Art Direction, Best Soundtrack, and Best Director of Fashion. The student category will also receive 1 prize for Best Student Film. In both case, the inspiration for making the official and student films will be divided into two themes: the muse and (to) amuse. The members of the jury include luminaries such as: Glen Adamson, curator, V&A Museum in London; Francesca Thyssen from Thyssen-Bornemisza Art Contemporary in Vienna; Alanna Heiss, founder and past director of PS 1 Contemporary Art Centre in New York; Linda Loppa, director of the Polimoda Fashion Institute in Florence; and Joachim Schirrmacher, member of the German Society for Design Theorie and Research, who will decide the best short films, from the two categories OFFICIAL and STUDENTS and select prize winners, receiving an exclusive sculpture made by artist Miguel Villalobos.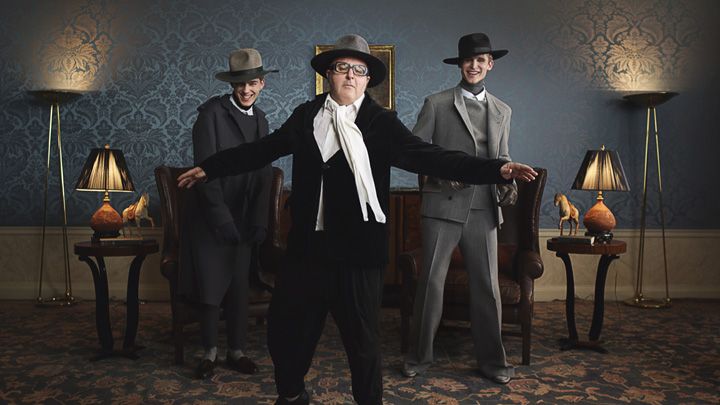 Photo: PARK AVENUE YOUTUBE directed by Steven Meisel for Lanvin
NEWNESS IN BARCELONA
The Barcelona edition will be innovative in launching the worlds first MOBILE FASHION FILM COMPETITION where 1 prize will be awarded to the best short film produced on a mobile phone. These films should be less than one minute long, "oneshot" (un-edited) or edited, with all films hosted online on the festivals website, for viewing and public voting. In conjunction with the mobile competition, Lorea Iglesias, coordinator of the Barcelona MovilFilmFest and an opinion leader in art produced on mobile phones, presents a selection of the best short mobile fashion films to be screened during the festival. This award, supported by the Barcelona City Council, is open to public of all ages but above all, the festival is interested in the young participants that will reinforce the international and avant-garde character of the festival and continue the link between Barcelona and the new technologies industry, as has been proven by the several editions of the Mobile World Congress held in the city.
The BEST OF ASVOFF is a curated selection of films by Diane Pernet, amongst them, two documentaries by Mike Figgis (including Vivienne Westwood and The four dreams of Miss X starring Kate Moss), Lust Lust by Martins Grauds (three times festival winnerASVOFF 2010); City Limits by Kris Moyes, Glen Luchford with Tilda Swinton by Glen Luchford and Valentino Masters of Style by Madeleine Czingler.
Charo Mora, a fashion critic and curator based in Barcelona, presents Carte Blanche "Narraciones", a selection of short films recalling the visual memory of Spanish fashion through rare and partly unseen documentaries. The Out of Competition section includes the film: "Hermès: les mains d'Hermès".
ABOUT ASVOFF
Since its launch in 2008, ASVOFF has gained critical acclaim for encouraging both emerging and established artists to reconsider the way that fashion is presented and for challenging the conventional parameters of film. ASVOFF debuts in Paris during fashion week and tours the globe with subsequent screenings at prestigious institutions and events like the Barbican, the Guggenheim and Cannes Film Festival in a host of creative capitals such as New York, London, Tokyo, Milan, Moscow, Mexico City – and this January at CaixaForum Barcelona. ASVOFF is not only a competition of short fashion, style and beauty films but also a traveling international event showcasing feature films, documentaries, conferences, performances and installations – making it a mustsee on both the fashion calendar and the film circuit. Genrebending and groundbreaking, it has already brought together such illustrious names as Chris Cunningham, Róisín Murphy, Nick Knight, Erwin Olaf, Nobuyoshi Araki, Tilda Swinton, Steven Klein, Mike Figgis, Chloë Sevigny, Dita Von Teese, Max Vadukul, Bruce Weber and Ryan McGinley as well as Yves Saint Laurent, Gucci, Gareth Pugh, Sergio Rossi, Hussein Chalayan, Mr. Pearl, Rodarte, Givenchy, Yohji Yamamoto & Thome Browne.
Photo: Stephen Jones, Besides the accent on fashion directed by Leonardo Van Dijl
ABOUT DIANE PERNET
Diane Pernet is a worldrenowned fashion critic and video journalist based in Paris. Previously a photographer and fashion designer, she now acts as documentary filmmaker, talent scout and fashion blogger on her site, A SHADED VIEW ON FASHION (www.asvof.com), which has become a 'mustread' in fashion and creative industry circles. As one of the most recognizable faces in fashion, she has also been captured on the other side of the movie camera through cameo appearances in Robert Altman's film, 'Prêt-à-Porter' and in Roman Polanski's 'The Ninth Gate'.
While contributing to some of the most highly acclaimed fashion magazines and pioneering online media, Pernet launched ASVOFF in 2008. As the founder of the world's first film festival dedicated to fashion, style and beauty, she is widely considered to have incubated the 'fashion film' from its infancy to the popular genre that it is becoming today. Pernet is not only credited with providing the first platform of its kind for the 'fashion film' genre to evolve and flourish, but also with helping 'fashion film' fulfill many of its early promises which were to revolutionize the fashion industry, breathe life into static photography, offer a new outlet to filmmakers – and to trigger several important commercial, business and digital media opportunities across the fashion and movie industries.