Paris Fashion Week is closuring the intense catwalk period AW2012-13. Living up to its reputation of capitale de la mode, Paris is showcasing state-of-the-art fashion blending to perfection tradition, savoir-faire, modernity and ultimate refinement.
Let's review together the most amazing proposals Paris delivered until now.
BALENCIAGA
Working girls. Balenciaga by Nicolas Ghesquière is the utmost expression of refined avant-garde. Even though the collection had a clear eighties inspiration with the printed cartoonish sweatshirts and metallic elasticated trousers, the vision of the brand goes much more further and definitely is, as always, one step ahead.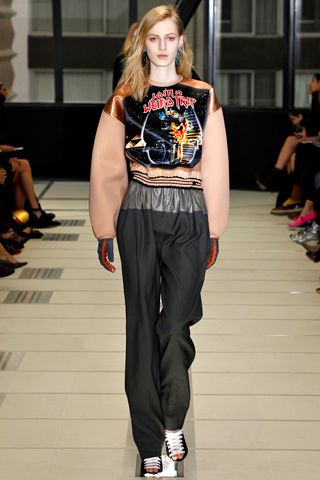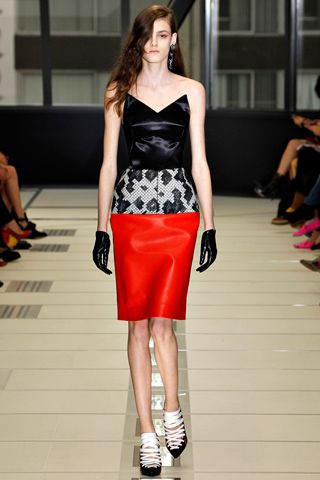 LANVIN
Happy Anniversary. Alber Elbaz celebrated the tenth anniversary of his tenure at Lanvin with an impressive birthday cake, surrounded by a crowd of faithful celebrities like Tilda Swinton and Dita Von Teese. The collection started with a succession of vibrant monochromatic looks - with peplum shapes and ruffles - followed by darker shades of cobalt, black fur and leather. The third part of the show featured glamourous gold brocade and cocktail dresses embellished with sparkling gems. A brilliant explosion of textures and fabrics and a huge variety of looks - for a collection that many critics consider Elbaz's best show ever - demonstrated the depth of his talent.
HAIDER ACKERMANN
The darling. At Lelook, we have been following Haider Ackermann for a long time. His ability to create ultimately feminine shapes through layering and juxtaposing and his natural gift for creating magical color palettes are outstanding. In this collection, Haider Ackerman's woman was urban, sensual, elegant, strong, proud, flamboyant. The lapels and tucks were so precise and meticulously balanced that in no occasion they made the silhouettes heavy, on the contrary, they were sharp and slender. Our favorite collection until now.
MANISH ARORA
"Life is beautiful". Manish Arora continues rising up to the heights of success. This time, his personal vision of fashion - colorful and fanciful - lead us toward street art. During the show, the Parisian street artists Rude, Vizion and Broke created a wall of grafittis building a bridge between Brooklyn and New Dehli. 1950's inspirated silhouettes with knee-high dresses, embellished black velvet and urban landscape prints were the keys of Manish Arora's autumn-winter 2012-13 collection.
PARIS FASHION WEEK REVIEW | Balenciaga, Lanvin, Haider Ackermann, Manish Arora | Photos: Style.com